Nutritional & Non-nutritional Aspects of Forage
I was honoured to have been part of the team who put together the Veterinary Clinics | Equine Practice book of clinical review articles on Equine Nutrition.
Together with Dr Brian Nielsen (Professor, Michigan State University) and Dr Carrie Finno (Associate Professor, UC Davis) we wrote the chapter 'Nutritional and Non-nutritional Aspects of Forage'.
Hopefully it will make a great resource for equine veterinarians around the world!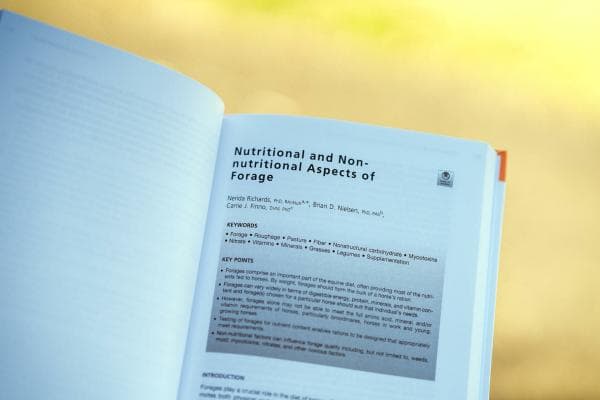 The biggest take-home message…
Forage alone is unlikely to meet all nutrient requirements and some form of supplementation, be it in the form of supplements, balancers or feeds, will almost always be necessary to create a balanced diet!
If anyone would like a copy we would be happy to email it to you.
You can find the abstract here: https://pubmed.ncbi.nlm.nih.gov/33820609/
Richards N, Nielsen BD, Finno CJ. Nutritional and Non-nutritional Aspects of Forage. Vet Clin North Am Equine Pract. 2021 Apr;37(1):43-61. doi: 10.1016/j.cveq.2020.12.002. PMID: 33820609.
Do you have a question or comment? Do you need help with feeding?
We would love to welcome you to our FeedXL Horse Nutrition Facebook Group. Ask questions and have them answered by PhD and Masters qualified equine nutritionists and spend time with like-minded horse owners. It's free!
Click here to join the FeedXL Horse Nutrition Facebook Group