Does Your Horse Need Electrolytes?
As a horse exercises its muscles generate heat. To prevent its body from dangerously overheating, the horse sweats to allow evaporative cooling to dissipate the heat being produced. As a horse sweats, water and electrolytes, including sodium, chloride, potassium, magnesium and calcium are lost from the body.
For effective sweating to occur, the horse must be well hydrated and have an ample supply of electrolytes in its body. The electrolytes and water lost through sweating must be replaced following exercise to prevent electrolyte depletion and dehydration.
In this blog post we will look at what electrolytes are and why they are important, how much 'electrolyte' a horse needs, where horses get electrolytes from in the diet and when to use an electrolyte supplement.
What are electrolytes?
Very simply, electrolytes are minerals, which, when present in a watery solution like body fluids, become positively or negatively charged particles that have the ability to conduct electricity. Electrolytes maintain fluid balance and circulatory function, facilitate muscle contractions, trigger nerve functions and maintain the body's acid-base balance. The most important electrolyte minerals are sodium, chloride, potassium, magnesium and calcium.
What happens if a horse becomes electrolyte deficient?
Electrolyte deficiencies are associated with fatigue, muscle weakness, lethargy and reduced feed and water intakes, resulting in weight loss and dehydration. In addition, electrolyte deficient horses may experience reduced sweating, which can result in hyperthermia (over-heating) and compromised performance. Studies in England have also linked electrolyte deficiencies to the incidence of recurring bouts of tying-up (Harris et al. 1992).
Please Note: severe electrolyte deficiency can result in complete exhaustion, colic, synchronous diaphragmatic flutter (commonly known as the 'thumps'), collapse and death if not treated. Severe electrolyte deficiencies are a veterinary emergency requiring IV fluids, electrolytes and specialist care so please call your vet immediately if you suspect your horse is acutely dehydrated and electrolyte deficient.
How much 'electrolyte' does a horse need?
All horses have a small daily requirement for electrolytes to replace the obligatory losses from the body in the urine and faeces. This requirement is termed a horse's 'maintenance requirement' and is reflected in FeedXL's recommended daily intakes for horses not in work.
Sweating increases a horse's requirement for electrolytes above their maintenance requirement, as large quantities of sodium, potassium and chloride and smaller quantities of magnesium and calcium are excreted in sweat (amounts are given in the table below):
| Electrolyte | Sodium | Potassium | Chloride | Magnesium | Calcium |
| --- | --- | --- | --- | --- | --- |
| Quantity in sweat* (grams/L) | 3.1 | 1.6 | 5.5 | 0.05 | 0.12 |
The amount a horse sweats, and therefore its electrolyte requirement, will be determined by the amount of work it is doing, the intensity of work it is performing and the climatic conditions in which the horse lives and works. Individual horses also vary considerably in their tendency to sweat. As an indication, in a moderate climate, a racing thoroughbred will lose between 5 and 10 litres of sweat during a daily workout and an endurance horse will excrete between 5 and 10 litres of sweat per hour when travelling between 12 and 18 km/hour. Sweat losses of up to 15 litres/hour can occur during high intensity exercise where horses are travelling at between 30 – 35 km/hour.
FeedXL calculates your horse's electrolyte requirements for you based on a sweat loss of 1.6 L per day for horses in light work, 4.4 L per day for horses in moderate work, 6.7 L per day for horses in moderately heavy work and 8.9 L per day for horses in heavy work.
How does climate affect requirements?
Hot and particularly hot and humid climates increase a horse's need for electrolytes as horses will sweat more under these conditions. As a general guide, if the temperature is 30C (86F) supply 140% of your horse's recommended daily intake (RDI) calculated by FeedXL for sodium, potassium and chloride . If the temperature is 35C (95F), supply 170% of your horse's calculated requirement for these minerals and if the temperature is 40C (104F) or over you should supply 200% of their requirements. Also be sure to have a salt lick available at all times.
Where do electrolytes come from?
Pastures and forages are almost always a rich source of potassium and are commonly a good source of magnesium. However they tend to contain variable and often unknown concentrations of chloride and typically low concentrations of sodium. Common table salt contains 39% sodium and 61% chloride and is frequently used as a readily available, palatable and cheap source of these electrolytes in a horse's diet. Potassium chloride (50% potassium, 47% chloride) can be used to supply additional potassium and chloride where required and magnesium oxide is a readily available and cost effective source of magnesium where additional magnesium is needed. Grains contain only very small amounts of all the electrolyte minerals and it is high grain diets that are most commonly 'electrolyte deficient'.
When should you feed an electrolyte supplement?
In many situations horses can get enough electrolyte minerals from a forage based diet that has plain table salt added for additional sodium and chloride. Some horses on high grain/low forage diets may benefit from an electrolyte supplement that contains potassium or need potassium chloride added to their feeds. On a day to day basis though, most horses won't need a commercial electrolyte supplement.
Commercial electrolyte supplements are however very handy in situations where your horse is away from home, not grazing or eating as much hay as he normally would and/or working a lot harder or longer and sweating more than usual. Well formulated supplements (ones that contain the same proportion of electrolytes as those found in equine sweat) can be used in these situations to quickly replace electrolytes lost in sweat. Where prolonged exercise occurs (for example endurance riding or long days of stockwork or trail riding) it may be necessary to provide some electrolytes during the period of exercise.
Well formulated electrolyte supplements will provide enough electrolyte minerals in a 60 gram dose to replace the salts lost in 5 litres of sweat. There is debate over how much electrolyte replacer you should give to working horses with no firm recommendations available given it does depend so much on the climate, intensity of work and the horse as an individual. If a horse is sweating consistently over a long period of time AND will have access to water frequently you can give 60 grams of electrolyte every hour to two hours. If water is not available on a frequent basis give 60 grams of electrolyte when you know the horse will have access to water and can have a good drink. Don't give more than 60 grams per dose as you may overload the horses ability to absorb the salts you give.
Well formulated electrolyte supplements will contain 20 – 25% sodium, 43 – 48% chloride, 10 – 12% potassium and smaller amounts of magnesium and calcium (normally 1 to 2%). These higher quality products will also have less than 20% glucose or other base or filler.
Some practical tips for using electrolyte supplements
Always make sure your horse has access to water after being given electrolytes as they will get thirsty and need to be able to drink. Failure to provide water will result in dehydration because the salts will pull water out of the body and into the gut.
If it is possible, wait for your horse to have a drink of water before giving it electrolytes.
Never give electrolytes to an already dehydrated horse that isn't drinking as you will worsen the dehydration. Call your vet in these situations.
Don't add electrolyte supplements to a fussy horse's feed as chances are it won't eat them. Instead mix the electrolyte with apple sauce and give it over the tongue (beware they will spit it all over you!).
During endurance rides where feed intake is also important, allow your horse to eat before giving him electrolytes as a paste as it will often stop a horse from eating for a little while which may affect your gut noise scores.
Always have a salt lick available to allow your horse access to extra sodium and chloride at any time.
If you want to use an electrolyte to help make your horse drink when away from home try it out at home to see if it works – if you dose your horse with electrolytes and he doesn't drink he will actually end up more dehydrated than when you started.
To increase water intake, offer slightly salty water to your horse as its first drink after exercise. Research has shown (Schott et al 2003) that horses who drink slightly salty water (0.9% salt, 90 grams of salt per 10 litres of water) initially will drink more water and rehydrate themselves faster after exercise than horse who drink plain water as their first drink. You will likely need to train your horses to drink the salty water, a touch of molasses might help.
Meet The Author: Dr Nerida McGilchrist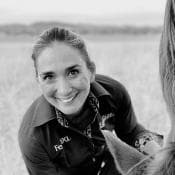 Dr Nerida McGilchrist is FeedXL's co-founder and equine nutrition specialist. She holds a degree in Rural Science, a doctorate degree in equine nutrition and nearly 20 years of full time, on the ground experience in feeding all types of horses. To learn more about Nerida and to 'meet' the rest of the FeedXL team, check out our About Us page here.
Do you have a question or comment? Do you need help with feeding?
We would love to welcome you to our FeedXL Horse Nutrition Facebook Group. Ask questions and have them answered by PhD and Masters qualified equine nutritionists and spend time with like-minded horse owners. It's free!
Click here to join the FeedXL Horse Nutrition Facebook Group