What is vitamin K?
The name 'Vitamin K' refers to a group of fat soluble vitamins that include:
Vitamin K1 (phylloquinone): found in fresh green plants
Vitamin K2 (menaquinone): produced by bacteria. There are 15 different menaquinones
Vitamin K3 (menadione): synthetic vitamin K
What does vitamin K do?
Vitamin K is required for many functions in the body. The most important of these are:
Activation of blood clotting mechanisms
Maintaining vascular health; and
Healthy bone metabolism
How much vitamin K does a horse need?
The true requirement for vitamin K in horses is still unknown. Primary vitamin K deficiency (i.e. nutritional deficiency not caused by a vitamin K antagonist) has never been recorded in a horse.
Published information suggests that the absorption of vitamin K from fresh forages and absorption of vitamin K produced by bacteria in the gut is enough to meet requirement. However, recent studies have called into question the ability of a horse to absorb bacterial derived vitamin K2 from the hindgut1. Still, there are many bacteria in a horse's small intestine and vitamin K is definitely able to be absorbed from there.
However, horses in stable conditions without access to fresh green forage may not receive optimal amounts of vitamin K in their diets. In these situations, some supplementation may be required.
What form of vitamin K is best?
There has been some debate in recent times regarding which form of vitamin K is best to supplement with. In horses, it appears that most forms of vitamin K are suitable for supplementation.
A study in horses published in the Journal of Animal Science (Terachi et al 2011)2 found that supplementation with Vitamin K3 (the form most commonly used in horse feeds) was the most effective at increasing blood concentrations of the biologically active menaquinone, MK-4.
A more recent study3 has suggested that vitamin K3 is not converted to MK-4. However this study used a single dose of vitamin K3, with blood samples only taken for 8 hours post-dosing. This is in contrast to the Terachi et al. study which supplemented horses for 7 days and found the highest levels of MK-4 in the vitamin K3 supplemented horses. It is likely that in the study of Skinner et al, the single dose of Vitamin K3 and the short time-frame for blood sampling may not have allowed enough substrate or time for conversion to MK4 to occur.
Vitamin K3 has been demonstrated to be converted to biologically active MK-4 in multiple animal species and it would appear horses are no exception.
Skinner JE, Cawdell-Smith AJ, Regtop HL, et al. 59 Extent of vitamin K absorption from the equine hindgut. Journal of Equine Veterinary Science;35:409.
Terachi T, Inoue Y, Ashihara N, et al. Plasma vitamin K concentration in horses supplemented with several vitamin K homologs. J Anim Sci 2011;89:1056-1061.
Skinner JE, Cawdell-Smith AJ, Biffen JR, et al. 11 Intestinal absorption of different vitamin K compounds in the horse. Journal of Equine Veterinary Science;35:387.
Meet The Author: Dr Nerida McGilchrist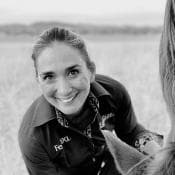 Dr Nerida McGilchrist is FeedXL's co-founder and equine nutrition specialist. She holds a degree in Rural Science, a doctorate degree in equine nutrition and nearly 20 years of full time, on the ground experience in feeding all types of horses. To learn more about Nerida and to 'meet' the rest of the FeedXL team, check out our About Us page here.
Do you have a question or comment? Do you need help with feeding?
We would love to welcome you to our FeedXL Horse Nutrition Facebook Group. Ask questions and have them answered by PhD and Masters qualified equine nutritionists and spend time with like-minded horse owners. It's free!
Click here to join the FeedXL Horse Nutrition Facebook Group